Why Do We Do This Every Year?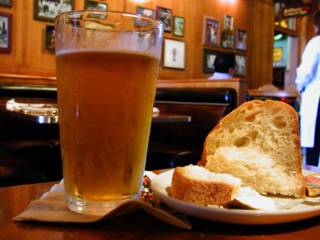 It's an odd custom to start every new year with a headache.
January 1st can be about many things. A fresh start. Football. New health. New happiness. Resolutions.
December 31st is only about one thing...assaulting your body. Which kind of makes all of those nice January 1st things kind of moot.
Although I did my share of drinking last night, for some reason I don't have a hangover.
I am significanly sleep deprived however (I would like to officially thank my mother for calling me at 9:10 AM this morning).
Normally, I try to post things relating to social commentary, with some wit and wisdom thrown in. So I will give you my new years resolution:
I think I resolve to go back to bed, and start my new year over again.
Gnite.
Links of Interest:
How do deal with a hangover.
BlackFive's hangover cure.
Gothamist's Hangover Cure.
Here's some advice
that might have helped you yesterday.
USA Today's Hangover Helper.
Archive of
personal stuff
.