Random Quotes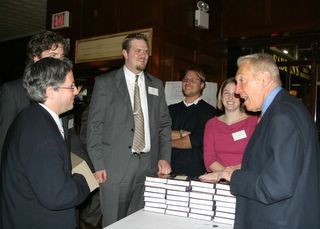 Former Buffalo Bills head coach Marv Levy at a recent book signing.
"The only place where success comes before work is in the dictionary."
-- Vince Lombardi
"Four little words sum up what has lifted most successful individuals above the crowd: a little bit more. They did all that was expected of them and a little bit more."
-- A. Lou Vickery, writer
"He should sweep streets so well that all the host of heaven and earth will pause to say, 'Here lived a great street-sweeper who did his job well.'"
-- Martin Luther King, Jr.
"I never wanted to be famous. I only wanted to be great."
-- Ray Charles
"What it takes to win is simple, not easy."
-- Marv Levy
Other
Random Quotes