Terrorist Threats, But Not Al Queda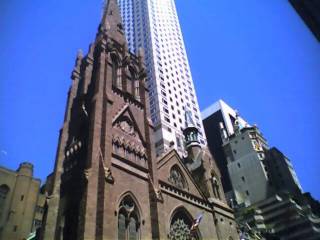 New York's Fifth Avenue Presbyterian Church, along with others in the denomination, was on alert Sunday after the PC-USA received an arson threat.
Walking into church this morning, I noticed more security than usual. During the announcement section of this morning's service, our pastor announced that the Presbyterian Church USA had received an
arson threat
due to it's "anti-Jewish" policies towards the Middle East.
The letter, postmarked from Queens, NY (my home county), has
PC-USA churches
all over
the country
on alert.
While the congregation was unhappy, they did not seem discouraged.
Terrorism, sadly, spans wider than Al-Queda, and darkens more than the Middle East. New Yorkers are getting used to it.
The statement on the potential PC-USA divestment is
here
.
The PC-USA statement on the Middle East roadmap is
here
.
More PC-USA thoughts on Palestine may be found
here
.
The Fifth Avenue Presbyterian Church website is
here
.
The Presbyterian Church USA website is
here
.