Time Warner, Don't Bother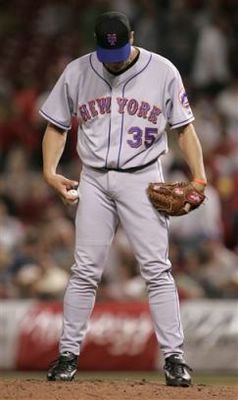 After giving up a grand slam homerun to the Cincinnati Reds on April 6, New York Mets pitcher Mike De Jean stood dejected on the mound, pondering his fate. The Reds would win this game, as well as the other two in the series.
I didn't get to see the game though because Cablevision will not allow Time Warner to air them, as well as the remainder of the season for the city's basketball team, the Knicks.
After losing to the Reds 6-1 yesterday, the
Mets are now 0-3 for the first time in 41 years
. Back in 1964, when the team was relatively new, the Mets started the season 0-4. This is the "new Mets"?
Not that I would know from watching them.
During the preseason I was annoyed by the impending blackout. I bought into the "new" Mets hype. I thought that this team would be competitive, and that I would miss all but the weekend games being shown on WPIX-11 in New York.
Luckily, I was wrong.
So here's my message to both Time Warner and Cablevision: don't bother.
The Knicks, which got trounced by the New Jersey Nets 110-98 (a game I got to see on the YES Network, since the Jersey team shares the NY TV market), are now one game away from being eliminated from the playoffs. Meanwhile, the Mets are a long way off from being interesting to watch.
With two second-rate teams, it makes the MSG and Fox Sports networks second rate as well, and they should be paid as much. Cablevision executives are out of their mind to think that Time Warner, and by extension, people like me, should pay anything but bargain prices for the networks. After all, you get what you pay for...and you pay for what you get.
Right now I think I'd rather have the two bucks off my cable bill every month than to watch over-priced second stringers play games.
Oh don't worry WPIX, I'll probably tune into the weekend games...just to see if there's any improvement. Hopefully, by the time Cablevision comes to their senses, the Mets will show some uptick.
As for Cablevision, they are proving once again to by hypocrites, as documented today by the New York Post's Phil Mushnick.
He writes
:

Its latest let-them-eat-radio hassle — this one removing Mets' telecasts from 2.4 million Time-Warner homes — makes for another bowl of bogus. In full-page ads, Cablevision urges victims to "Tell Time Warner Cable that you want your Knicks and Mets games back, or you'll switch to satellite TV."

Oh, really? Why, it was just a few months ago, as home dishes had already begun to provide an alternative to Cablevision's self-serving ways and means, that Cablevision ended a long propaganda campaign that trashed home satellite TV as unreliable, incomplete and expensive.

This campaign ended after Cablevision began to increase its stake in — you guessed it — unreliable, incomplete and expensive home satellite TV.

But masking self-interest with we're-on-your-side nonsense has long been the Cablevision way.
It seems that in the late 1980s, when Cablevision, years before it bought the Garden, lost the rights to air New York Yankee games — they went from SportsChannel to MSG Network — Cablevision then removed MSG from its systems. Years later they would block off the new YES network, which airs Yankees games, trying to squeeze a better fee.
In other words, denying sports fans the ability to watch theif favorite teams, and then blaming others for it, seems to be the M.O. of the company.
Time Warner shouldn't cave in. To be honest, two dollars a month seems to have more reward then spending even two hours watching the Knicks and Mets.
RELATED LINKS:
More Sports
WEB STUFF:
I guest blogged at the Bitter Daze site.
Check it out
.
Planet Moron talks about
exit polling
in the new papal election. Funny stuff.
Looks like both liberals and conservatives are happy Delay is going down, accoring to
this blogger
.
Looks like "the future is now" NFL quarterback Mike Vick is
spreading herpes
. Way to go.
Forest Hills, Queens, native "The Ultimate Warrior," the former World Wrestling Federation heavyweight champion, is apparently now a
"conservative" commentator
on the lecuture circuit. Comical.