Is Pluto A Planet? God knows.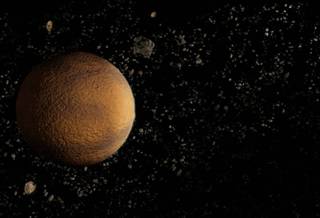 Science isn't as clear and precise as we are led to believe. In many ways, its current debates on definitions mirrors those of the early Christian church.
Science geeks may already know this, but there is a great debate in the astronomy community over the issue of whether Pluto, which since 1930 has been coined our
8th or 9th planet
, is really a planet.
The November issue of
Discover
magazine has a fascinating article on the new "vast wilderness"
Beyond Pluto
.
In the Discovery article, Mike Brown, a planetary astronomer at Caltech, says something quite shocking. "Pluto is not a planet," he says. "There is no logical reason to call Pluto a planet."
In an argument that is reminiscent of the
ancient debates
on the substance of Jesus Christ, scientists are currently trying to define what a planet is. The fate of Pluto, at least its classification, hangs in the balance. So does our view of the solar system, and in many ways our vision of ourselves.
Apparently, there could be hundreds of objects just like Pluto in what's called the
Kuiper Belt
, a cluster of objects beyond Uranus discovered around 1992, long after we started calling Pluto a planet in Junior High science class.
The Discover article continues:
Planetary scientist Alan Stern of the Southwest Research Institute says there are reasons for preserving the status quo. Stern, the principal scientist for NASA's New Horizons mission to Pluto and the Kuiper belt, scheduled to launch in January 2006, argues that any object tugged into a round shape by the force of its own gravity is a planet. "We can argue about adjectives," he says. "I don't mind if you want to call Pluto a dwarf planet, which it is, but it is a planet"—as are, by his definition, thousands of other objects in the solar system.
"His definition makes me mad," says Caltech's Mike Brown, who discovered the two largest Kuiper belt objects aside from Pluto. "It is a definition of convenience. Just by coincidence, the size at which things become round just happens to be a little bit smaller than Pluto. If Alan Stern is right, then I've discovered more planets than anyone in human history."
Brown's point being that in the Kuiper Belt, there may be hundreds of objects that meet Stern's definition of a planet (including Pluto), diluting our very image of what a planet is.
In some ways, this argument is about perception, rather than science. "His definition makes me mad," is such an odd thing to hear coming from a scientist, but it is a very honest statement.
Much of what science is comes down to the definition of terms and methodology, which scientists haggle over in the same way theologians debate the manifestations of miracles.
Science, it appears time and time again, is not far removed from religion, as it is ultimately a reflection of emotion, faith, and the "evidence" we choose to believe. Both seek to find the truth about ourselves and the world we live in.
It is a reliance on distant information to help us create perceptions of our time regarding matters in which we have no real first hand knowledge.
Is Pluto a planet? I have never been there, nor am I likely to (in this life, at least). I have no way to independently answer that one way or another, and therefore choose to rely on people like Brown and Stern to figure it out.
Is Jesus the son of God? I have never met him, nor am I likely to (in this life, at least). I have no way to independently answer that one way or another, and therefore choose to rely on people like Peter and Paul to figure it out.
Will we ever know?
That depends on the definition of "know".
More information/links:
Is Pluto a Planet?
Pluto: The Planet That Used To Be
A BBC story on the "10th planet".