Forget the States, Look at the Counties, and the People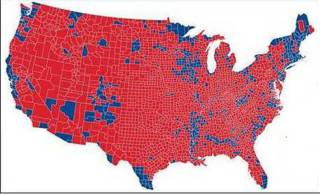 A County By County Map Shows George W. Bush's America

Winners write the history.
George W. Bush may go down in history as a
political genius
.
In the aftermath of the election, there have been some interesting, under-the-radar, articles looking at it from a more measured point of view.
The supposed fear of the red states seems overblown, says a blogger named
Parableman
, because those in the blue have very little interaction with evangelical Christians (and vice versa). He has a call to do something about it, and close the "divide" in our country. Very interesting reading.
Another blogger, "Pray Naked...it's good for the soul," came across an interesting statistic:
64% of people who are antagonistic towards Christians
voted for John Kerry.
But the evangelicals are taking over,
even in the blue states
, so says the New York Times. Conversely, also in the New York Times, Democrats are trying to find the "
religious left
".
Gregg Easterbrook of the New Republic (and NFL.com's TMQ fame) writes that the word "evangelical" is often overused and
out of context
.
I can understand where the fear of the "red states" comes from when I look at the county map. While "red" county people are more likely to travel into "blue" cities due to work or vacations, it is less likely that people in cities will spend quality time in the "red" areas. This is probably the root of the recent liberal
denial
about the election, and why so many "blue" people think this is a divided nation. They just have very little exposure to their way of life, and we usually fear what we do not understand.
But then again, as the moderate voice noted, maybe this had to with how the media saw John Kerry: as
a green-tea drinker
.